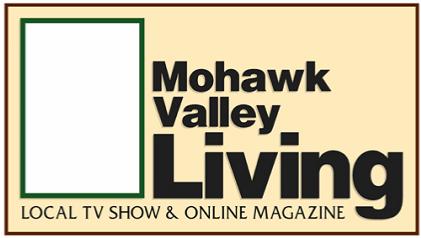 Shrimp Vodka Riggies
shared by Yesterday's Royal, Sylvan Beach
4oz. finely chopped onions
2 Tbsp chopped garlic
1/2 cup tomato sauce
1/4 tsp basil
1/4 tsp black pepper
1/4 tsp salt
dash of red pepper
1/4 tsp oregano
4oz. vodka
1/2 cup of half and half
10 large shrimp
2oz. of romano cheese
1 lb rigatoni cooked al dente
Saute chopped onions until soft. Do not brown. Add tomato sauce, chopped garlic, basil, black pepper, salt, pepper and oregano, stir and continue to heat. Add vodka and stir. Addhalf and half. Stir until vodka burns off. Add 10 large shrimp and simmer until shrimp are cooked. Stir in romano cheese.
Pour sauce and shrimp over each serving of rigatoni. Serves 3-4.
Chewy Chocolate Gingerbread Cookies
shared by Sweetie Pies Bakery in Poland
from the archives 2007
7 oz. semi sweet chocolate
1 1/2 cups flour
1 1/4 tsp ground ginger
1 tsp ground cinnamon
1/4 tsp ground cloves
1/4 tsp ground nutmeg
1 Tbsp cocoa powder
1 stick butter
1 Tbsp freshly grated ginger
1/2 cup brown sugar packed
1/2 cup molasses
1 tsp baking soda
1/4 cup sugar
In a bowl, sift together flour, nutmeg, ground ginger, cinnamon, cloves and cocoa. In another bowl beat butter and grated ginger until whitened (about 4 minutes) add brown sugar. Beat well, add molasses, beat until combined. In small bowl dissolve baking soda in 1 1/2 tsps boiling water. Beat half of flour mixture into butter mixture. Beat in baking soda mix, then remaining flour mix. Mix in chocolate. Wrap dough in plastic wrap and chill for 2 hours or more. Heat oven to 325 degrees. Roll dough into balls. Place on baking sheets. Fridge for at least 20 minutes. Roll in granulated sugar. Bake until the surface cracks slightly, about 10-20 minutes.
Chef John's Bananas Flambé
shared by Tunnicliff Inn, Cooperstown
1 whole banana
flour
egg (wisked)
2 oz. butter
1 oz. brandy
2 oz. heavy cream
4 oz. vanilla ice cream
1 oz. choc.syrup
2 slices pound cake
Peel banana and slice it length wise and in half
Dredge in flour then in egg
Heat butter in saute pan
Place bannana in butter and brown on both sides.
Add brandy then cream let reduce in pan
Top pound cake with scoop of ice cream
Place half of banana on each side of ice cream
Pour cream on top followed by drizzled choc syrup
serve immediately
FIRST PRIZE: Georgia Munn's Apple Crumb Pie
shared by North Star Orchards, Westmoreland
1/3 cup granulated sugar
1/3 cup brown sugar
2 tablespoons flour
6 cups thinly sliced, peeled apples
1 teaspoon vanilla
1 tablespoon cinnamon
Pastry for single crust pie
CRUMB TOPPING:
2/3 cup flour
1/3 cup brown sugar
1 teaspoon cinnamon
1/3 cup softened butter or margarine
In large bowl, combine both sugars with flour, apples, vanilla and cinnamon, tossing well. Spoon into unbaked pastry shell. For the topping, combine flour, brown sugar and cinnamon in small bowl and cut in butter until crumbly. Sprinkle evenly over apple mixture and bake at 375° for 45 minutes or until top is golden-brown. Cool on wire rack before serving. Serves 6 to 8.
Malio Cardarelli's Struffoli

Ingredients
4 Eggs
1-1/4 Cup Sugar
2 Tbs. Whiskey or Rum
2 Tbs. Vegetable Oil
3 tsp. Baking Powder
3 tsp. Vanilla
3-4 Cups Flour
Vegetable Oil for frying
Honey
Toppings -Candy sprinkles, nuts, candied almonds, etc.

Dough
1. Prepare ahead and refrigerate overnight or 3 hours
2. Mix together 4 eggs and 1-1/4 cup sugar -beat until creamy and fluffy
3. Stir in Whiskey or rum (optional)
4. Stir in Vanilla
5. Add Baking powder and slowly add Flour until soft dough is formed.
6. Cover tightly and refrigerate

Making and Frying Dough
1.On lightly floured surface -roll pieces of dough into ropes about the width of your little finger
2. Cut ropes into little cubes
3. Preheat oil over med-high heat in large skillet
4. Once oil is very hot (test with one or two pieces) gently drop dough pieces into oil in batches. Cook until golden brown (1-2 minutes)
5. Remove from oil with slotted spoon and let drain on paper towels.
6. Once completely cool toss with warmed honey to coat and place on serving plates in piles
7. Top with sprinkles, toasted nuts, candied almonds, etc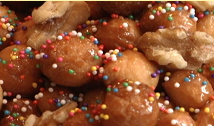 Cream of Mushroom Soup
from the archives December 2007

1 lb white mushrooms, coarsely chopped (food processor)
1 Tbsp lemon juice
1 Tbsp butter
2 Tbsp minced shallots
1/2 bay leaf
1 Tbsp chopped fresh thyme or 1 tsp dried thyme
1 tsp salt
1/2 tsp fresh ground pepper
2 cups heavy cream
1 1/2 cups chicken stock
1 tsp cornstarch dissolved in 1 Tbsp water
Minced parsley for garnish

Melt butter in (4-5 quart) sauce pan and sauté shallots on medium heat. Add mushrooms, thyme and bay leaf, sauté over moderate heat for 10-15 minutes, or until the liquid that is released from the mushrooms disappears.

Add salt, pepper, cream and chicken stock and bring to boil. Reduce heat and simmer for 20 minutes.

Add dissolved cornstarch and simmer for 10 minutes, stirring constantly. Season and add more lemon juice to taste.

Serve topped with parsley.

1 lb bulk Italian hot sausage
2 cups chopped onions
2 cloves chopped garlic
7 cups water
4 medium carrots sliced
1 can 28 oz. diced tomatoes
2 Tbsp beef base
1 tsp Italian seasoning
black pepper
1 1/2 cups chopped zucchini
1 cup elbow macaroni

Brown sausage, onion and garlic in sauce pan

add water, tomatoes, carrots, beef base & seasoning

add oil, reduce heat and simmer 30 minutes

add zucchini and macaroni and cook 15-20 minutes
or to your preference

shared by: Ann Street Restaurant and Deli
Open Daily 7am-3pm
381 S. Ann St., Little Falls, (315) 823-3290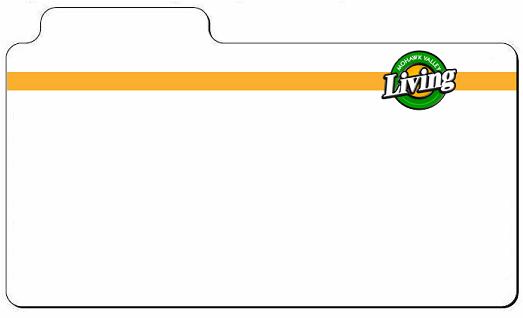 Latkes for Hanukkah shared by: Caren Price, Temple Emanu-El

Simple old-fashioned recipe, multiply for larger quantities

4 potatoes (yukon gold preferred)
1 onion
1 egg
flour
1 tsp baking powder
salt and pepper to taste

Food processors are helpful
Grate onions and potatoes
squeeze out excess water
mix together with egg, flour, baking powder and spices
form into patties
fry in hot oil
salt and pepper to taste


MVL Recipe of the Week
shared by: Alee's Restaurant

Pitn' Cuse, shared by Cafe Caruso, 707 Bleecker St., Utica 315-735-9712, Open Daily at 7am, Closed Tues.

Dough (prepare ahead and refrigerate overnight)
5 tsp sugar
6 eggs
5 tsp baking powder
1/2 cup cooking oil
1/2 cup red wine
1/2 tsp cinnamon
1/2 tsp ground cloves
4-5 cups flour

Filling
1/4 cup sugar
2 lbs raisins
2 lbs walnuts chopped
1 tsp cinnamon
1 tsp nutmeg
1/4 cup cooking oil
honey

To Make Dough
Mix all ingredients except flour. Add flour a little at a time until very soft but still sticky. Refrigerate overnight.

Seperate just enough dough to line bottom and sides of deep dish pie pan (straight edge pan works best)
Roll out remaining dough very thin
Brush with oil
Cut into 2 inch strips w/pizza cutter
Drizzle honey lightly over entire dough (not too much)
Spread raisins and walnuts
Sprinkle with cinnamon, nutmeg, sugar
Roll up each strip tightly to hold nuts and rasins, but not too tight. Take largest roll and place in middle of dough-lined pie dish, standing upright, continue to place rolls around center roll edge sides up.
Bake in 350 degree oven for 30 minutes.
Remove and drizzle with honey
Bake additional 30 minutes or until golden brown
Let sit overnight in pie pan

1 package (6-1/4 oz) miniature marshmallows
2/3 cup Amaretto
1 jar (6 oz) maraschino cherries, drained & chopped
1 Tbsp lemon juice
1/4 tsp almond extract
2 cups whipping cream
2 Tbsp chopped pistachios or toasted chopped almonds


Directions:
Combine marshmallows and amaretto in top of a double broiler; bring water to a boil. Reduce heat to low; cook until marshmallows melt, stirring occasionally. Remove from heat. Stir in cherries, lemon juice, and almond extract. Let cool 5 minutes.
Beat whipping cream at high speed with an electric mixer until soft peaks form. Fold into marshmalow mixture. Spoon into individual parfait glasses (or we used silicone molds), cover and freeze.
To serve - pop out of molds (or remove parfait glasses), top with sprinkled nuts, whipped cream and serve!
Yield: 8 servings.